► Concert/ Social Events

Whole program here
Monday, September 19th, 8:30pm ► Concert
@ Auditorium, Le Louvre Museum
ÉLECTRONS LIBRES (film-music)
►Wunder der Schöpfung, (Germany, 1925, 92 minutes)
Silent film by Hanns Walter Kornblum
Musical creation by Andrea Agostini, commissioned by the musée du Louvre
A musée du Louvre and IRCAM-Centre Pompidou coproduction
Wunder der Schöpfung (Our Heavenly Bodies) is a unique film that endeavors to explain the cosmos using the scientific knowledge of the 1920s. With a multitude of special effects, long shots, and collaborations with numerous scientists, this science fiction film released two years before Metropolis combines elements of animation, documentary, and fiction films. A futuristic 2001: A Space Odyssey. Prior to this film, Hanns Walter Kornblum produced a 30-minute film on Einstein's new theory of relativity!
Map from IRCAM (A) to Auditorium, Le Louvre (B)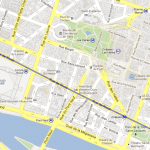 Tuesday, September 20th ► Welcome Reception
@ Ircam
Presentation of some IRCAM R&D teams
►6:30pm Perception and Sound Design Team – Patrick Susini
Bio: Patrick Susini received a Ph.D in Acoustics for the Université du Maine in 1999 and an Habilitation for the Université Aix-Marseille in 2011. He has been at Ircam since 1994 and he has been the head of the Sound Perception and Design group at Ircam since 2004. His research activities include everyday sound perception, loudness of non-stationnary sounds, sonic interaction design and sound signalling. He is member of the French Society of Acoustics and animates the sound perception group. He was the coordinator of the european project CLOSED between 2006 and 2009. He has been teaching psychoacoustics at the University of Paris 6 since 1997.
► 7pm: Musical Representations Team – Gérard Assayag
Bio:
►7:30pm: Demonstration in Ircam Concert Hall (ESPRO)
►8pm: Cocktail
Wednesday, September 21th ► Visits
@ Centre Pompidou
►Visit of the Centre Pompidou (National Musuem of Modern Art) collections
Thursday, September 22th ► Social Events
@ La Seine
Gala Dinner (river boat on the Seine)
Map from IRCAM (A) to Quai Henry IV (Boarding for river boat) (B)